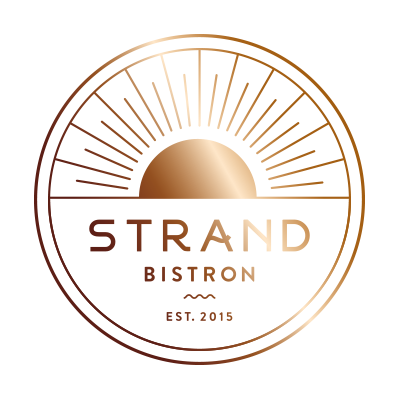 VÄLKOMNA TILL STRANDBISTRON & STRANDBAREN
Välkommen att njuta av utsikt, sol och värme. 
Vi kommer att följa Folkhälsomyndighetens riktlinjer och hoppas att vi alla tar vårt ansvar. Vi ses på Strandbistron!
*Håll minst en meters avstånd
*Sitt ner och äta & dricka
*Tvätta eller sprita händerna
*Stanna hemma om du är sjuk
Trevlig vistelse hos oss!
LUNCH

BISTRONS KÖTTBULLAR 135
rårörda lingon, gurka, potatispuré
Meat-balls, lingon-berries, mashed potatoes
CAESARSALLAD MED KYCKLING 135
krutonger, grana padano
Caesar salad chicken
SMÖRSTEKTA KANTARELLER 165
på toast
Chanterelles toast
LINGUINI VONGOLE 225
citron, vitlök 6 färska örter
Cured salmon, stewed potatoes
GRILLAD BURGARE 195
cheddarost, chili-mayo, tomat & fries
Cheeseburger, chili-mayo tomatoes and fries
AVOKADO & HALLOUMISALLAD 198
med jordgubbar, rostade mandlar, balsamico
Avocado- and halloumi salad, strawberries, almonds
HALSTRAD RÖDING 275
kantareller, sparris, chablissås
Char, chanterelles, asparagus, whitewine sauce
STEAK MINUTE 265
bearnaise, tomatsallad, pepparrot, fries
Beef, bearnaise, tomatoes, horse-radish and fries
CAESARSALLAD MED RÄKOR 195
krutonger, grana padano
Caesar salad shrimps
Smaklig måltid!
MIDDAG

KLASSIKER
GRILLAD BURGARE 195
cheddarost, chili-mayo, tomat & fries
Cheeseburger, chili-mayo tomatoes and fries
BISTRONS KÖTTBULLAR 185
rårörda lingon, gurka, potatispuré
Meat-balls, lingon-berries, mashed potatoes
LINGUINI VONGOLE 225
citron, vitlök & örter
Linguini vongole, lemon, garlic, herbs
SMÖRSTEKTA KANTARELLER 185
på toast
Chanterelles toast
HALSTRAD RÖDING 275
kantareller, sparris, chablissås
Char, chanterelles, asparagus, whitewine sauce
STEAK MINUTE 265
bearnaise, tomatsallad, pepparrot, fries
Beef, bearnaise, tomatoes, horse-radish and fries
MELLAN
TAPAS SKÅLAR 149
Marinerade oliver, ost, kryddig korv
Olives, cheese, salsiccia
BISTRONS RÄKSMÖRGÅS 169
på danskt rågbröd, ägg, mayo, dill och citron
Shrimp sandwich
SALLAD
AVOKADO & HALLOUMISALLAD 198
med jordgubbar, balsamico
Avocado- and halloumi salad, strawberries, almonds
CAESARSALLAD MED KYCKLING 189
krutonger, grana padano
Caesar salad chicken
CAESARSALLAD MED RÄKOR 195
krutonger, grana padano
Caesar salad shrimps
SÖTT & SYNDIGT
IRISH COFFEE 155
kaffe, farin, grädde, Tullamore whiskey
Irish Coffee
DRYCK

KONTAKT
ÖPPETTIDER
Alla dagar från 10:00
ADRESS
Strandvägen, Kajplats 19
Stockholm, Sweden
KONTAKT
Helene Jansson
+46 73 564 9358
helene@strandbistron.se
Map